Short bike ride to Passau, Germany today, then the afternoon exploring Passau's spectacular old town, on a peninsula where the Donau (Danube) and Inn (as in Innsbruck) rivers join.
Tonight's hostel is the Jungendherberge Veste Oberhaus – and the Veste Oberhaus is Passau's spectacular old schloss on the ridge above the town, with an awesome view across the river into old Passau.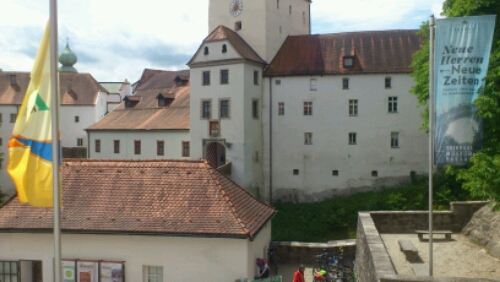 The hostel's location is amazing, although the climb up from river level, pushing a loaded bike, was a bit of a grunt. This makes three nights of the last five we've had a steep climb up to our lodging at the end of our riding day…
Off to Straubing, Germany tomorrow, and our longest single day of the whole trip, 105km or so. Long day, but the weather looks like it'll be clear and warm again, like today and yesterday.