Still hot but much of today's ride was away from the river through farmland, so more shade (a lot of the riverside paths are up on the dikes, quite exposed) but more hills.
The small group I have been riding with decided to leave Ingolstadt early, just past seven this morning to beat the worst of the heat. It worked, it was just getting really stinking hot as we rolled into Donauwörth around 1230.
This did come at the expense of seeing more of Ingolstadt, which is unfortunate. I had wanted to take an hour or two in the morning to see the military history museum, which is apparently very good. Next time I'm in Germany!
Donauwörth has a small old town section alongside the Danube which we biked around a bit after we dropped our bags off at the hostel. Then we learned of a public swimming beach at a lake just south of town and headed there for a few hours – a wonderful way to beat the heat!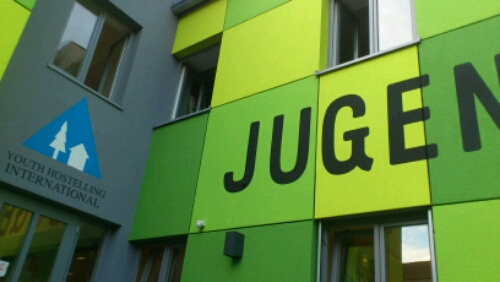 There are thunderstorms forecast for tomorrow afternoon, but luckily we have a short day of under 40km to get to Dilligen and should be off the roads before noon.