The CRD-owned, T'Souke (Sooke) First Nation-operated Sooke Potholes Campground is our new favourite bike camping site, especially because we're lucky enough to live right next to the Galloping Goose Trail and can ride all the way out to Potholes without any navigation or traffic concerns at all!
Getting There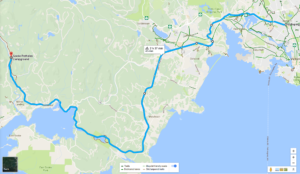 Potholes Campground is gloriously easy to get to – just get on the Galloping Goose or Lochside Trail and head west! No navigation concerns, no vehicle traffic except at road crossings. Kid and nervous cyclist friendly to a fault, barring the distance.
The map above has the trip starting from the Switch Bridge Junction where the Goose and Lochside Trails meet, right by Uptown Mall. Here's a link to the actual Google Maps setup.
Note that Google Maps will try to route you through central Langford and onto Sooke Road (Hwy 14) by default. I do not recommend following these routing suggestions, unless you want to detour into Langford to get groceries, alcohol, or other last-minute shopping. Stay on the Goose trail the whole way for maximum ride comfort!
Speaking of shopping, Langford's Westshore Town Centre mall is immediately off the Goose where the trail crosses Kelly Road/Veteran's Memorial Parkway intersection; there's groceries, a liquor store, coffee, bank machines, and a pharmacy all there if you realize you've forgotten something en route or need a refreshment break. There's other options further out in Metchosin and Sooke, but Westshore Town Centre Mall is the last shopping centre directly off the trail.
The Goose is entirely gravel past Langford but generally in excellent shape, easy to ride on.
Camping There
The Campground proper is directly off the Galloping Goose Trail; there's a short side trail (signposted) that drops directly into the top part of the campground from the trail.
Hiker and biker campers are welcome to use any of the regular campsites, but there is also the car-free group spot set up specifically for them! There's a big picnic shelter, a shared fire ring, four large tent pads, and even a bike rack to lock your ride to! There's a water tap, drop toilets, and garbage/recycling/compost bins just up the slope from the group site.

Note that unlike most other provincial or federal (National Park) campgrounds, the staff don't come around to make sure camp fees are collected; if you come in the back way off the Galloping Goose you need to walk down to the gatehouse at some point and let them know you're around and pay your fee. Fee is cash only — hope you remembered to hit that ATM in Langford!
Things To Do
The remains of Leechtown (a briefly-inhabited gold mining ghost town) are just up the Goose from the campground, on the other side of the river. I have to confess that I haven't been over to Leechtown myself, not yet, but apparently there's a few traces of roads and foundations to explore.
The Goose itself ends a few kilometres north of the campground at a very large gate blocking access to the CRD's Sooke Water District lands. Some of us keep hoping the Goose will one day be extended all the way through the Water District lands to connect to Cowichan District trails up by Shawnigan Lake, but that isn't going to happen anytime soon.
The swimming in the Sooke River is great, either right at the campground or downstream a bit at the official Potholes swimming area. There's also a variety of hiking trails aside from the Goose itself, if you want to get your dayhike on.
Note that there is no cell reception at Potholes Campground itself, and very limited reception further south until you get a lot closer to Sooke Road. Whether this is a feature or a bug depends on you!
More of my photos from Potholes over at this Flickr album.