The day started off with a very nice zooming ride downhill into Grein proper after our night at the guesthouse built into a long-ruined hilltop schloss, Burg Kreuzer.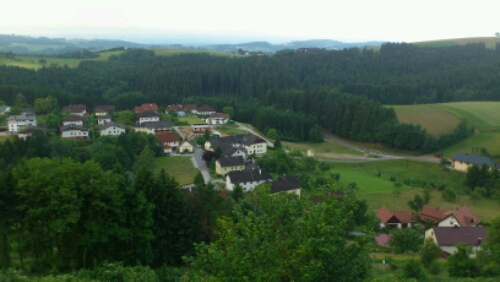 Unfortunately the day also started with the abrupt death of my new bike computer. It popped off it's handlebar mount just as I started rolling, as computers sometimes do, hit the pavement and was done for. Not impressed with the fragility – bike equipment should be more shock resistant than that!
Aside from that we had a good day riding, about 65km, with only a couple km of headwinds right near the end along the river, and an unpleasant taxi driver cutting us off as we rode through Linz to our hostel.
We spent several hours in the afternoon wandering central Linz – the Mariendom is a grand spikey Gothic pile, and there are lots of nice Baroque buildings in town.
Off to Engelhartszell tomorrow, another 65km or so and our last stop in Austria – we're into Germany by the end of Thursday when we get to Passau!