Very short ride today, just down the valley from Blaubeuren back to Ulm and the Danube.
Nice riding weather, slightly overcast and comfortable.
Ulm is a nice city with a great bike path setup. The central Munster (cathedral) is a grand Gothic spiky pile, and I can see it from my cafe chair as I write this…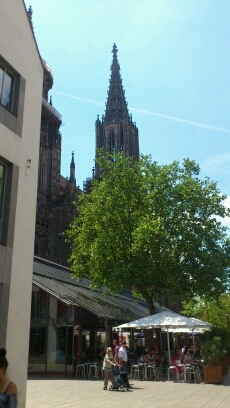 The cafe is related to one of the annoyances of no longer being in Bavaria – the hostel here charges for WiFi. Steep rates, too – €2/hr. Highway robbery, in 2014. Apparently hostels in Bavaria, if they offer WiFi, are forbidden from charging for it. Wish Baden-Wurtemburg would adopt the same rule.
Off down the Danube tomorrow and staying at a monestary at Obermarchtal, so who knows if they'll gave WiFi!